Reusable Silicone Bags (Set of 3)
Reusable Silicone Bags (Set of 3)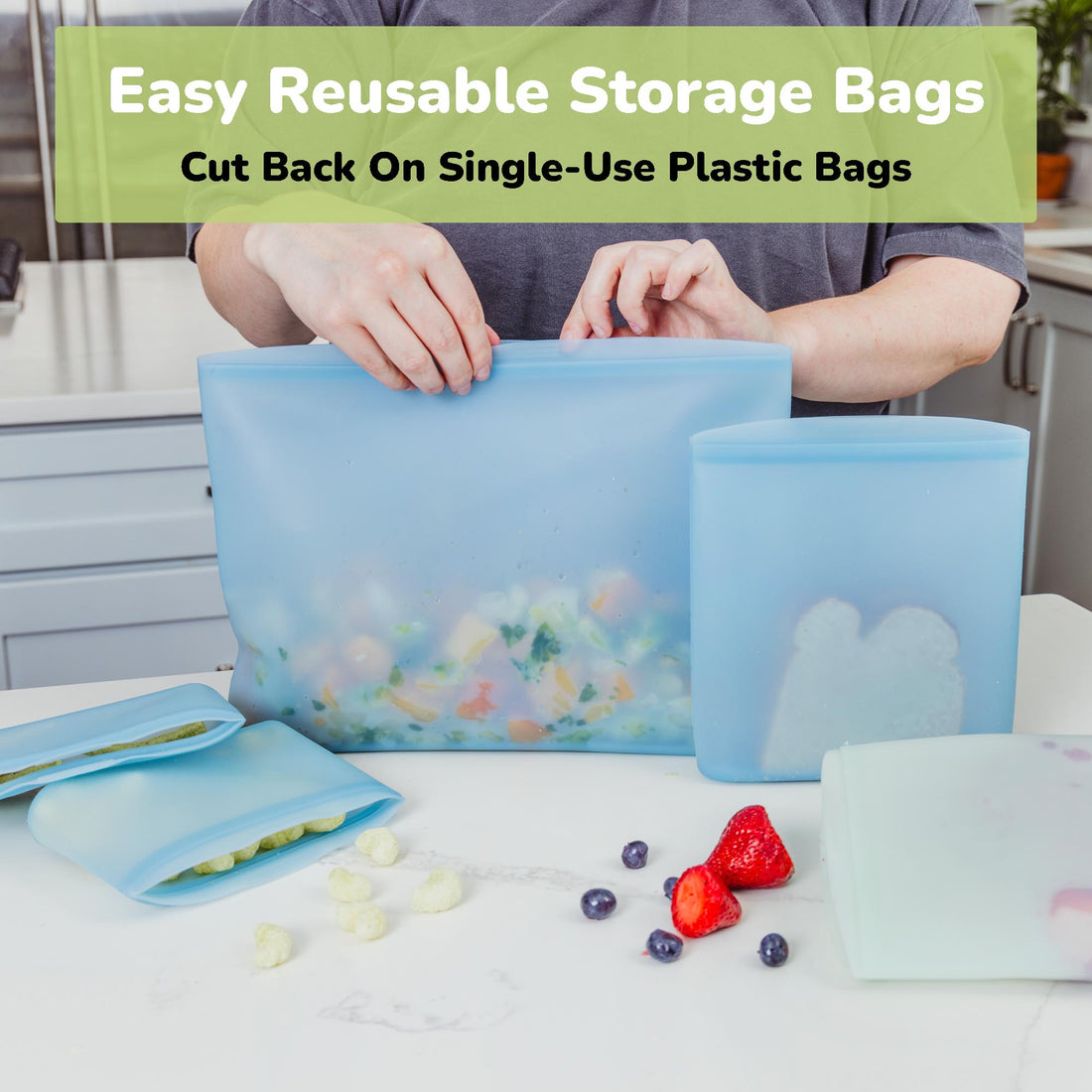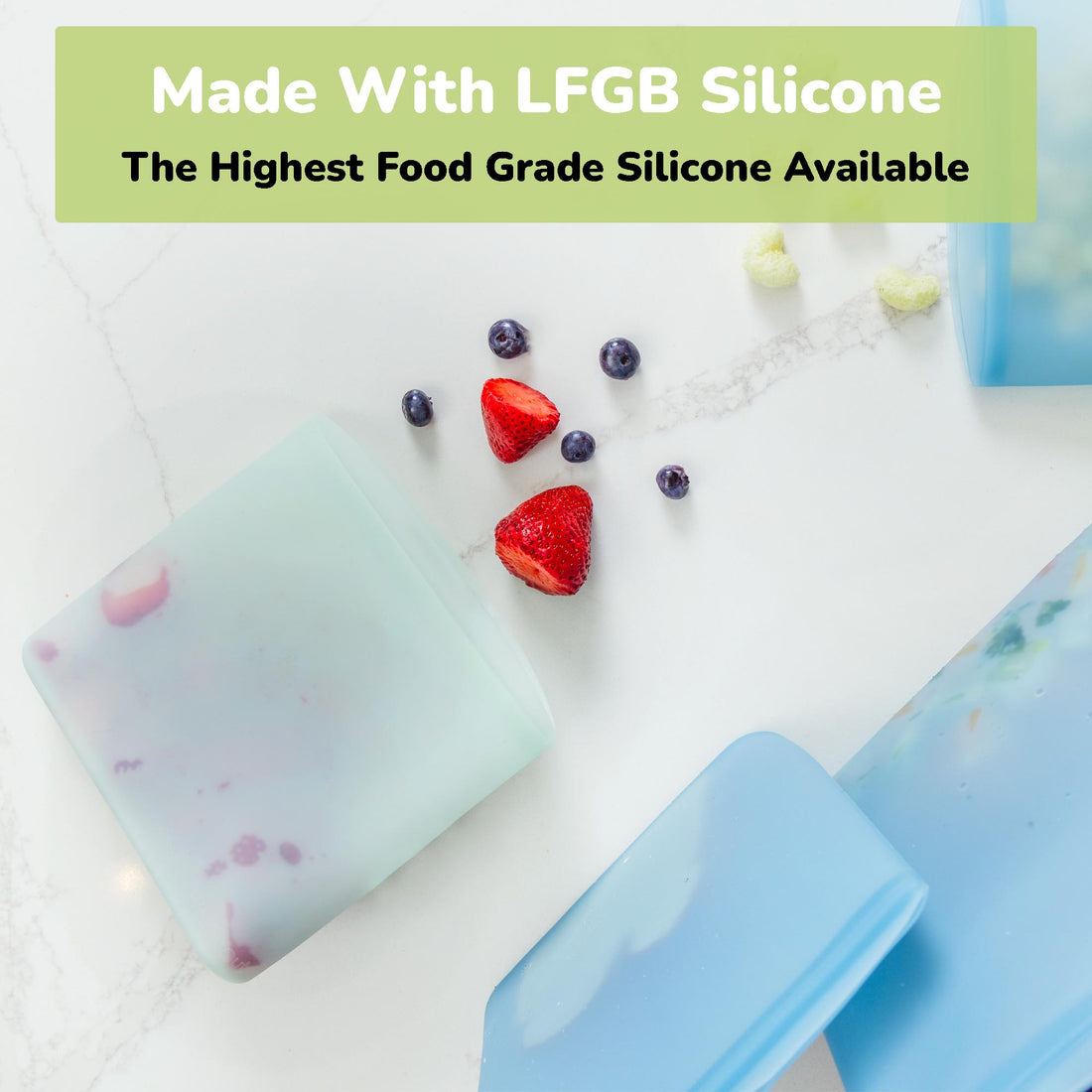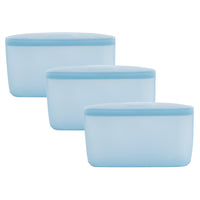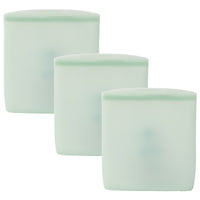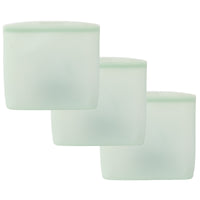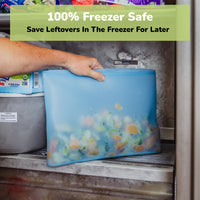 Reusable Silicone Bags (Set of 3)
Say goodbye to single-use plastic and hello to a more sustainable way of storing your food with these silicone storage bags for food. Our silicone food containers offer a variety of sizes to suit all your needs. From snack time to freezer storage, this reusable sandwich bag variety pack is here to revolutionize your kitchen. Upgrade your pantry organization game with silicone containers for food storage. These reusable freezer storage bags are not only practical and functional but also better for the planet. Use our silicone bag for snacks, sandwiches, freezer storage, or organizing your pantry. These silicone food bags come in a variety of sizes that can easily accommodate all your food storage needs. Say goodbye to disposable plastic bags and embrace the convenience, durability, and planet-consciousness of our reusable bags silicone. Make a difference one bag at a time. The freezer bags reusable silicone is designed to help you reduce single-use plastic waste. By choosing our reusable gallon freezer bags, you're making a positive impact on the environment and contributing to a greener future for generations to come. These reusable food bags allow you to store your favorite meals, soups, or bulk items with ease. --- About Us: WeeSprout was founded in 2015 by a husband and wife team in need of healthy, eco-conscious kid's products that wouldn't break the bank. It all started with our reusable food pouch baby must-haves, then one good thing led to another.
FREE standard shipping on all US orders over $50 — most orders are shipped within 24-48 hours and your product will arrive within 7-10 business days.
Reusable Silicone Bags for Food Storage: Our WeeSprout reusable silicone food storage bags eliminate the need for plastic bags that harm the environment. These reusable sandwich bags are available in various sizes including snack, sandwich, quart, and a half gallon, perfect for storing a variety of foods from small snacks to larger portions. Perfect for All Storage Needs: These reusable snack bags aren't just for snacks and sandwiches, but are also great for storing leftovers, organizing your pantry, or keeping your fruits and vegetables fresh. Our reusable storage bags for food ensure you have the perfect bag for every food storage need! Silicone Reusable Bags for Food Storage: Say goodbye to freezer burn and wasted food. These silicone storage containers have a pinch closure that keeps food fresh and prevents unwanted odors. And our bags are freezer-safe - that means you can store your favorite meals, soups, or bulk items with ease! Seal the Flavor: These silicone freezer containers are made from high-quality 100% food-grade silicone. Keep your food fresh and flavorful with these airtight, durable, and reusable silicone snack bags - Ideal for storing dry goods and snacks while keeping them fresh. Easy to Maintain: These resealable bags for food are a breeze to clean. Simply hand wash or toss these silicone freezer bags in the dishwasher for quick and convenient cleaning. These silicone sandwich bags are also microwave-safe, allowing for easy reheating of your child's favorite dishes.
Dishwasher safe Boil-proof for deep cleaning stains & odors (*remove seals) Microwave safe (*remove seals) * Silicone can, at times, take on the scent or taste of the things it comes in contact with. To remove unwanted tastes or odors, simply remove any non-silicone parts and soak your product in boiling water for 15 minutes. We suggest the following tips when caring for silicone products: Do not soak in soapy water Place all silicone in the top rack of your dishwasher Use a mild detergent for washing
Frequently Bought Together
Snack Time Made Simple With Silicone Bags
Experience the perfect blend of convenience and simplicity with our versatile silicone bags - ideal for school lunches, snacks on the go, and effortless storage of leftovers in the freezer. The easy and simple design ensures a hassle-free snack experience allowing you to reclaim precious moments and savor the goodness of life.
Our Promise
Our eating, sleeping, and nursing products are:
Pure — We prioritize safety and purity with premium materials
Intentional — Made by parents for parents
Long-lasting — Quality construction means your products work hard while your little ones are little … and longer
The success of our business is built on our "above and beyond" customer service. Meaning, if something isn't just right with your order, we'll fix it — always.