Plastic Baby Food Containers
Plastic Baby Food Containers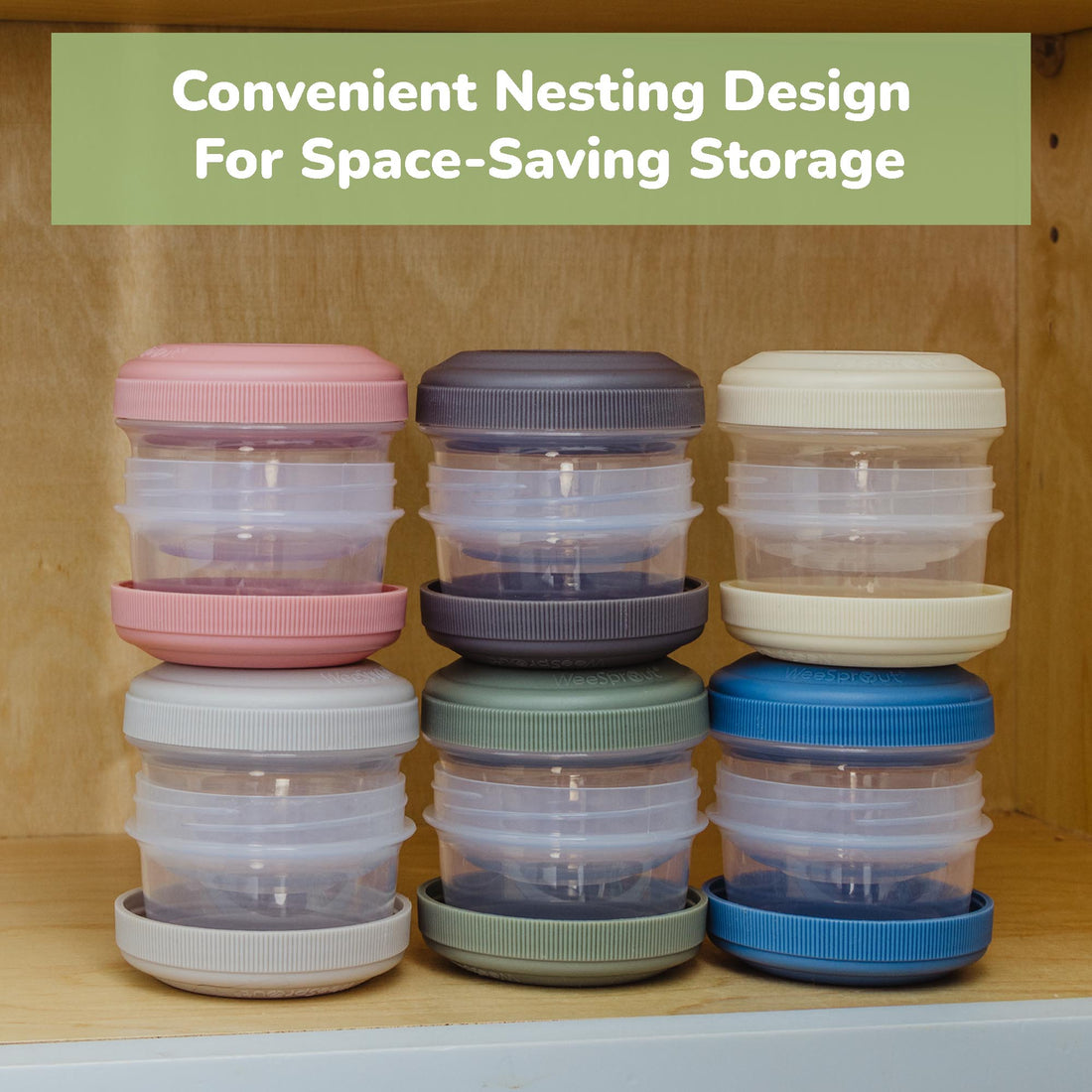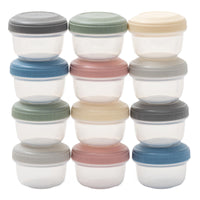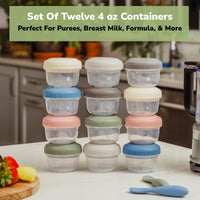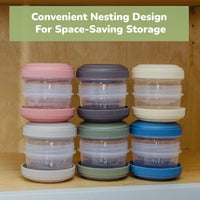 Plastic Baby Food Containers
Say goodbye to spending every night cooking a new puree! This set of 12 plastic baby food containers makes batch prepping homemade baby food a snap. That means you can spend less time pureeing carrots and more time with your baby. Feeling like a kitchen winner is easy when you've conquered that first round of purees and streamlined meal and snack time sanity. 
And their use doesn't stop in the kitchen! They make great lunch containers as your child gets older, or sorting containers in the playroom.
FREE standard shipping on all US orders over $50 — most orders are shipped within 24-48 hours and your product will arrive within 7-10 business days.
• Set of 12 — Baby food plastic containers with twist lids
• 4 oz Capacity — Perfect for first stage feeding
• Leakproof — Won't leak in the freezer or diaper bags
• Airtight — Keep food fresh & lock in flavor
• Nested Design — For space-saving storage
• Freezer Safe — Save make-ahead meals for later
• Dishwasher Safe — For quick & easy cleanup
• 100% Money Back Guarantee — try your baby plastic food storage risk-free!
What are the dimensions of the baby food storage containers?
The containers are 3" wide and 2" tall.

Do WeeSprout Baby Freezer Tray cubes fit in the Baby Food Storage Containers?

Yes! Each container can hold either one frozen cube or two thawed cubes.

Can these be boiled to sanitize them?
We do not recommend boiling our plastic containers to sanitize them.

Are they microwavable?
We do not recommend microwaving our plastic jars. To warm or thaw the contents of your containers, simply place them in warm water.

Are they dishwasher safe?
Yes! Our baby food containers are top rack dishwasher safe.

Where are they made?
WeeSprout products are designed in Memphis, TN. The storage containers are constructed by our manufacturing partners in China. We have strict Quality Control standards and require regular third-party checks for all of our products to maintain our high safety standards.

Are they leakproof?
Our plastic storage containers are 100% leakproof. The lid has a threaded design that creates a tight seal to contain liquids.

How do I warm food in my containers?
We do not recommend microwaving our plastic jars. Instead, we recommend placing your jars in warm water to thaw the contents.

How long does food stay fresh in the containers?
In general, baby food containing poultry, fish, meat, or eggs should stay fresh in the refrigerator for 24 hours and frozen for 3 months. Baby food made with only fruits and vegetables should last 3 days in the refrigerator and 6 months in the freezer.

How do I remove the marker from the lid?
Hand wash or wash in dishwasher. If the marker doesn't come off in the dishwasher or with soap and water, you can use rubbing alcohol to remove the marker.
Dishwasher safe

Freezer Safe

*We do not recommend microwaving your containers. Instead, we recommend placing your containers in warm water to thaw contents.

*We do not recommend boiling your containers to sterilize them as this can compromise the integrity of the plastic. Instead, we recommend wiping them with rubbing alcohol and rinsing before use, soaking in hydrogen peroxide for 15 minutes and rinsing before use, or UV sterilization.
Frequently Bought Together
Making Healthy More Doable
WeeSprout food storage products save you time, energy, and a bit of sanity on those busy nights when you don't have time to cook. We provide the container, you prep the food, & boom! Dinner is in reach & ready when you are. Like our baby food plastic containers, our storage products make healthier choices less daunting and more doable!
Our Promise
Our eating, sleeping, and nursing products are:
Pure — We prioritize safety and purity with premium materials
Intentional — Made by parents for parents
Long-lasting — Quality construction means your products work hard while your little ones are little … and longer
The success of our business is built on our "above and beyond" customer service. Meaning, if something isn't just right with your order, we'll fix it — always.