Silicone Straw Cups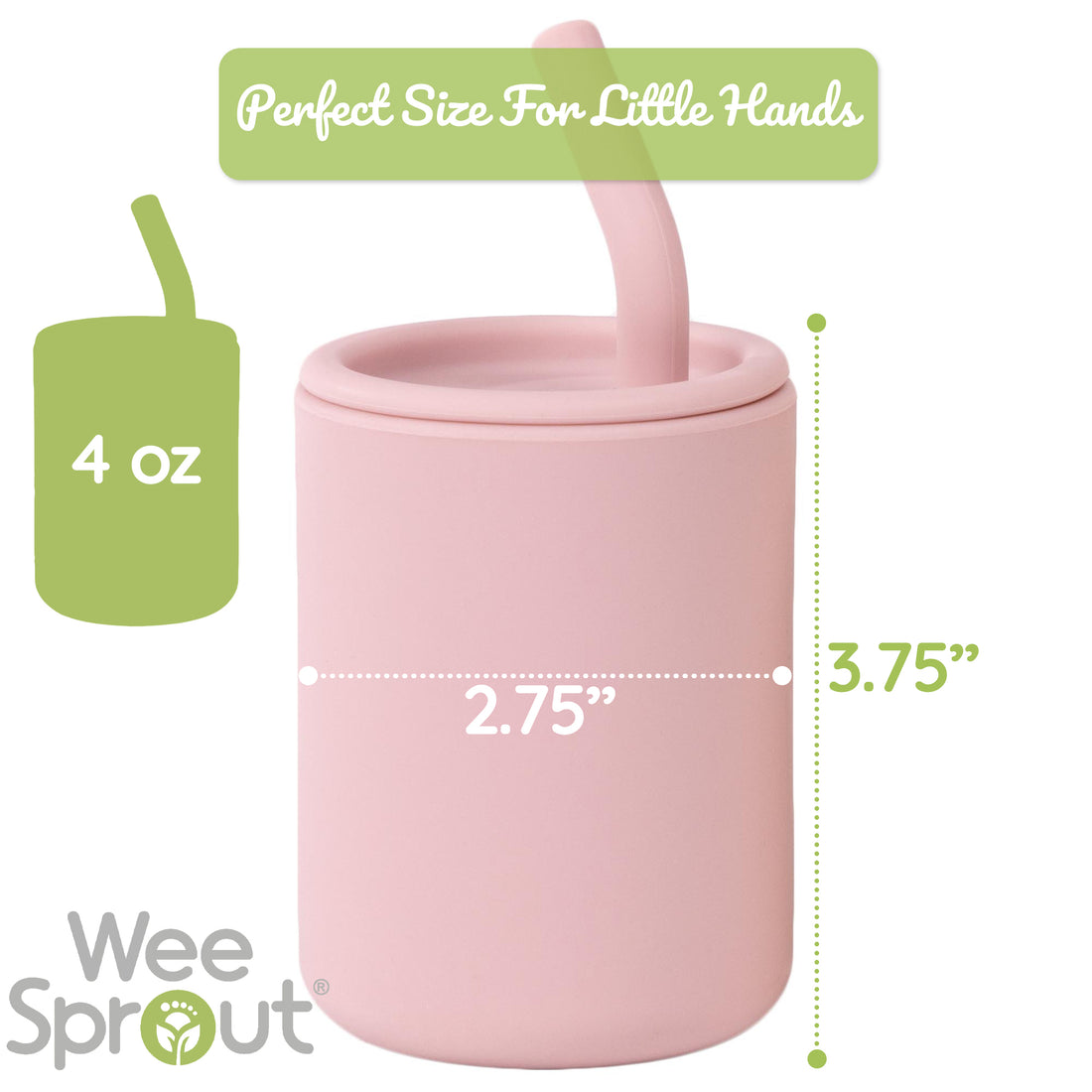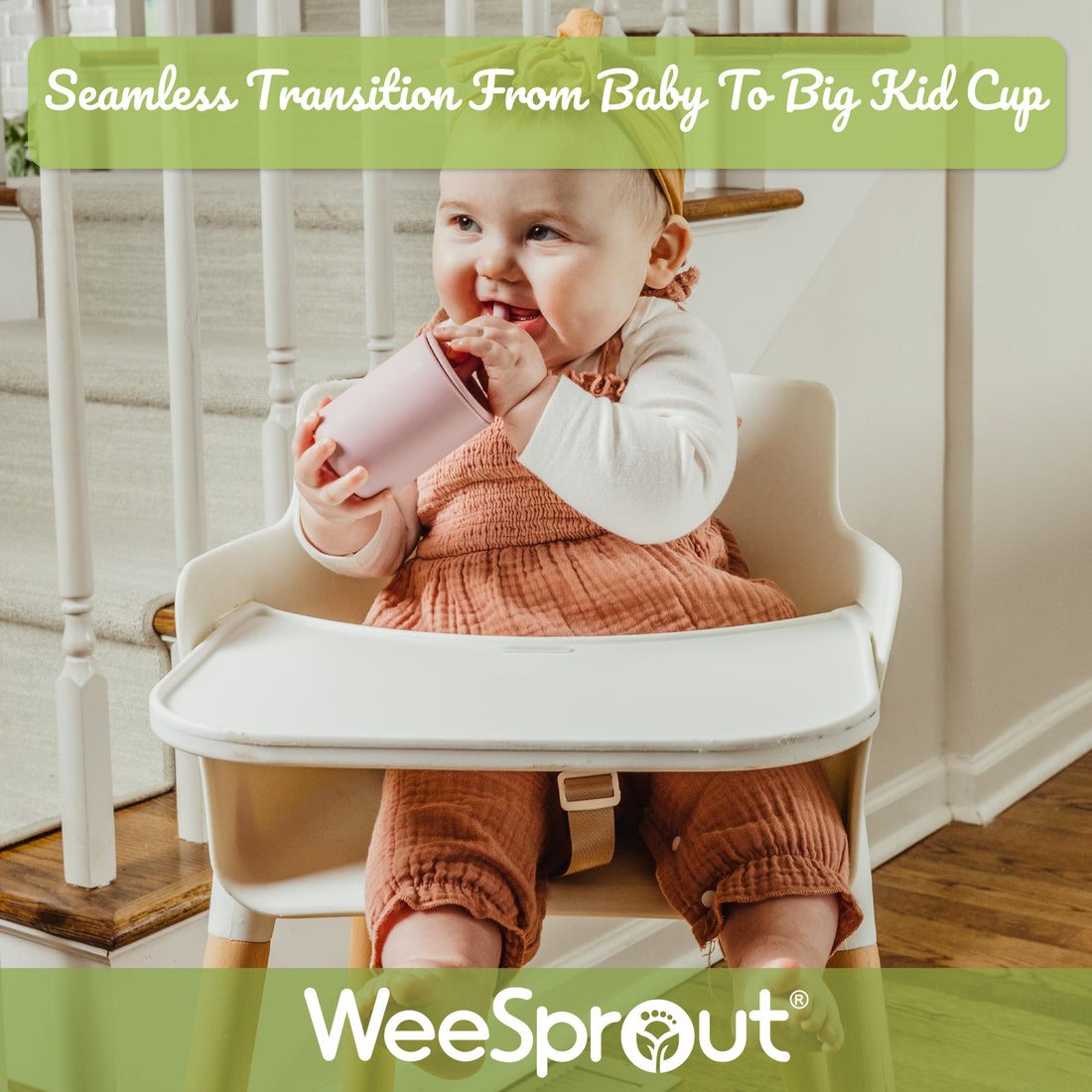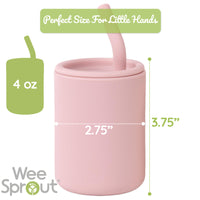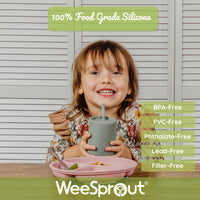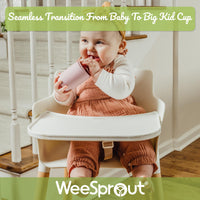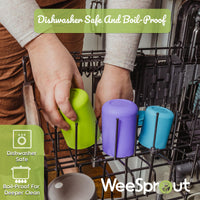 Dinner can get messy when you have a little who wants to do everything on their own. That's why we designed a cup that makes the transition from bottle to big kid cup easier for babies learning to drink independently and the parents who have to clean up after them! 
Designed with speech pathologist recommendations in mind, WeeSprout straw cups are perfect for that in-between stage when they're ready to move away from bottles but aren't quite ready for cups without lids. 
Made with easy-grip silicone, these cups are the perfect size and texture for little hands still working on fine motor skills. And the straw lids with built in straw stoppers let them drink on their own without making a mess!
Plus, the soft silicone straws are gentle on gums and developing teeth while the curved design promotes correct jaw positioning, proper lip closure, and oral strength. 
WeeSprout straw cups are made with 100% food grade silicone – and like all of our products, they're BPA, PVC, phthalate and filler-free. 
FREE standard shipping on all US orders — most orders are shipped within 24-48 hours and your product will arrive within 7-10 business days.
• Set of 2 – Two pack of silicone straw cups with lids
• Food Grade Silicone – BPA, PVC, phthalate and filler-free
• Silicone Straws – Gentle on gums and developing teeth
• Straw Stoppers – Prevent your child from pulling straw out
• Curved Straw Design – As recommended by speech pathologists
• Measurement Markings – Makes it easy to pour the perfect amount
• Sturdy Bottom – Prevents their cup from tipping
• Dishwasher Safe – For quick and easy cleanup
• Bonus Straw Cleaner
• 4 oz and 8 oz Options
• 100% Money Back Guarantee – try your straw cups risk-free!
• Dishwasher safe
• Boil-proof for deep cleaning stains and odors

*Silicone can, at times, take on the scent or taste of the things it comes in contact with. To remove unwanted tastes or odors, simply soak your product in boiling water for 15 minutes.

We suggest the following tips when caring for silicone products:
• Do not soak in soapy water
• Place all silicone on the top rack of your dishwasher
• Use a mild detergent for washing

Frequently Bought Together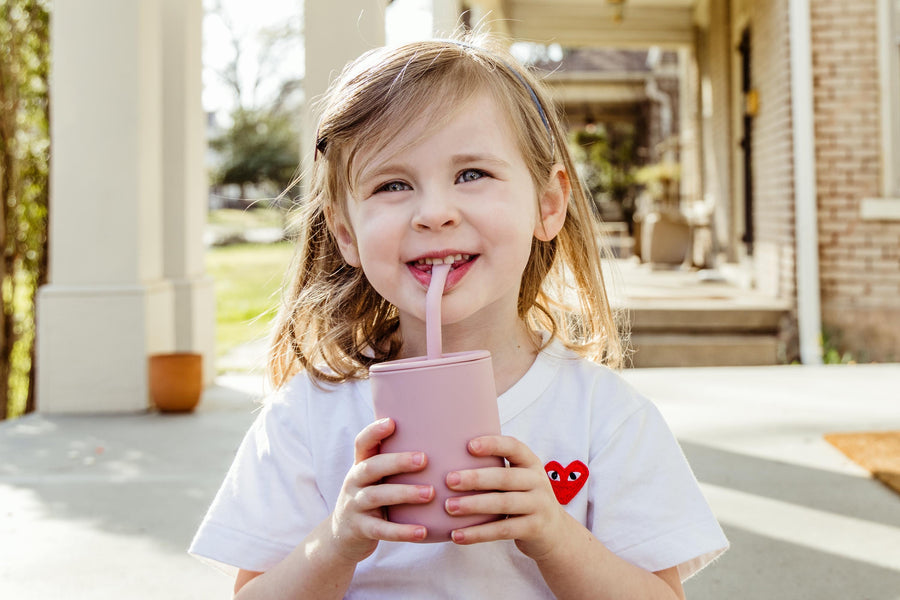 Grow Your Little - Shrink The Mess
Toddlers want to do everything themselves. But the transition from baby to big kid can be messy. That's why we design products exclusively for your little's unique needs. Like our silicone cups with straws, WeeSprout toddler transition products help little hands hit big milestones with less mess!
Our Promise
Our eating, sleeping, and nursing products are:
Pure — We prioritize safety and purity with premium materials
Intentional — Made by parents for parents
Long-lasting — Quality construction means your products work hard while your little ones are little … and longer
The success of our business is built on our "above and beyond" customer service. Meaning, if something isn't just right with your order, we'll fix it — always.