Glass Baby Food Jars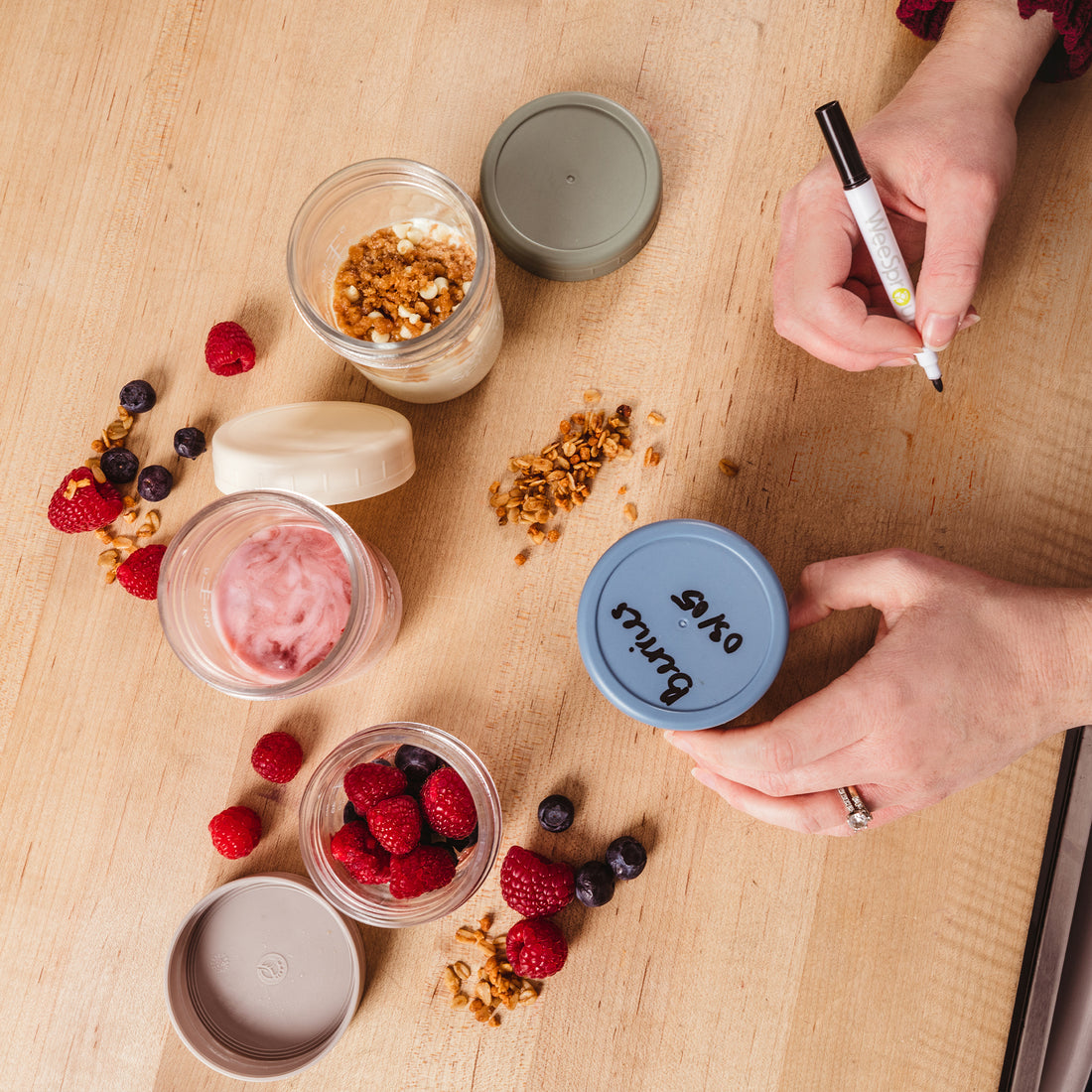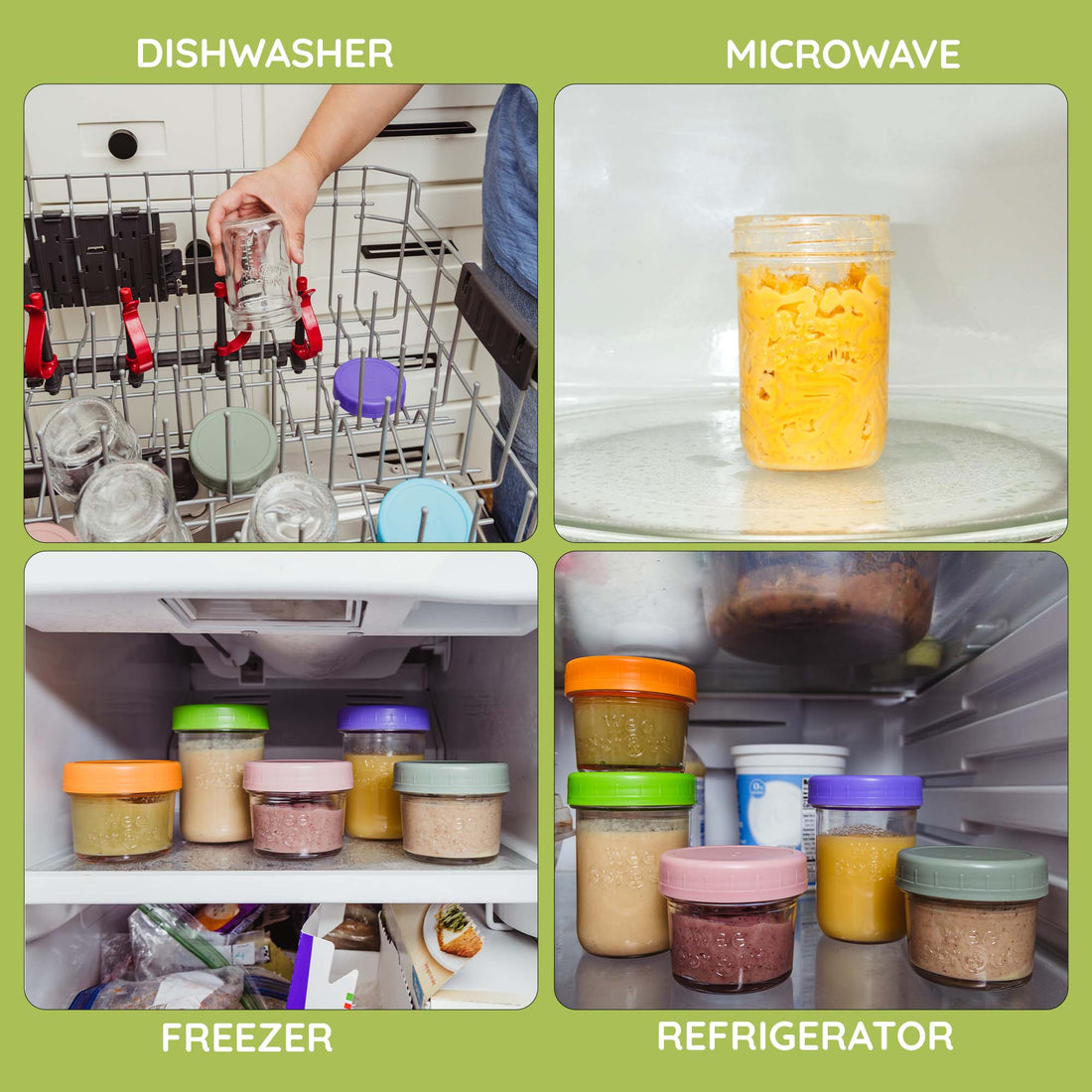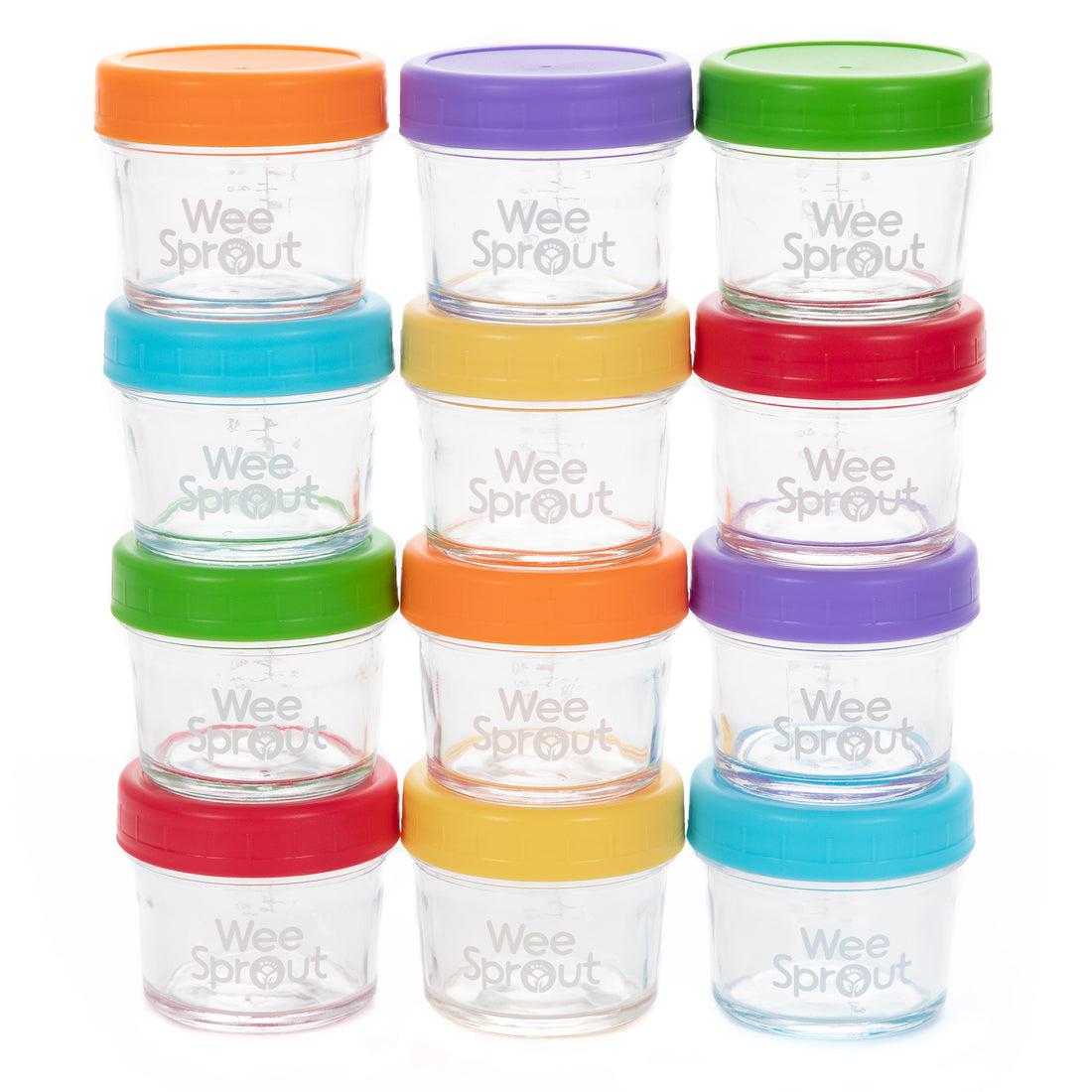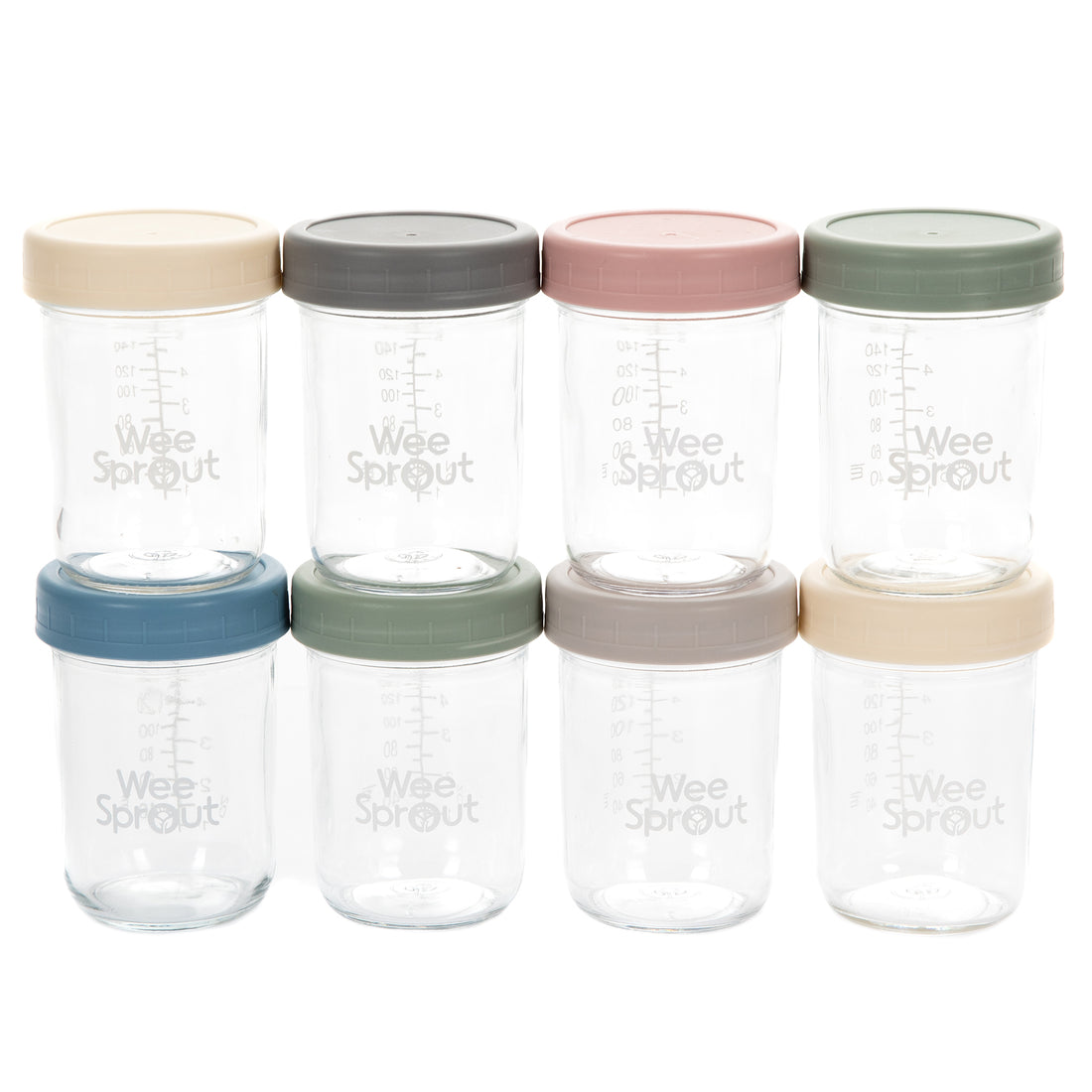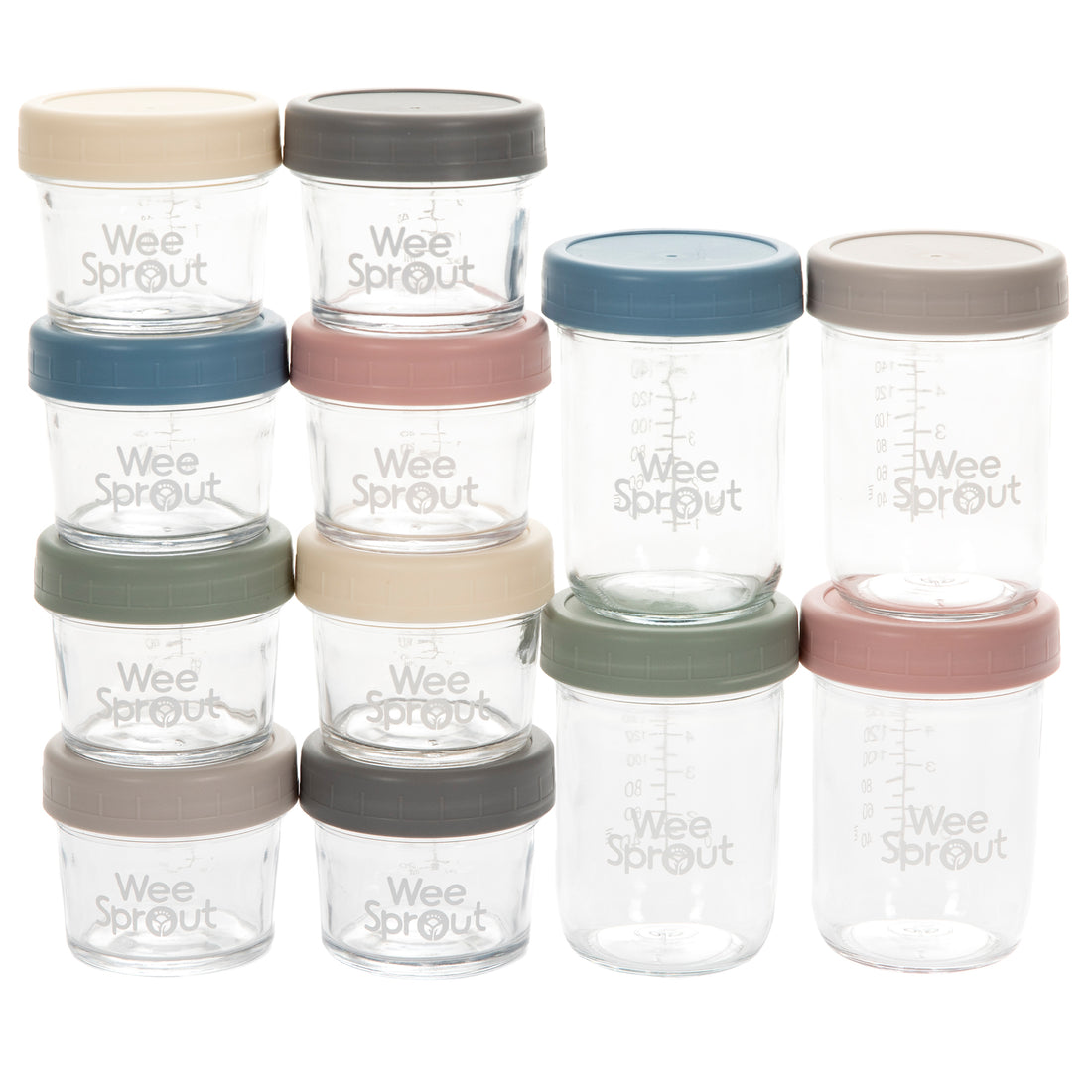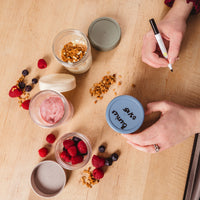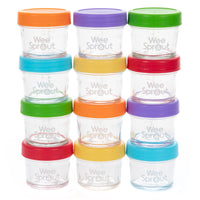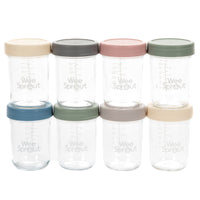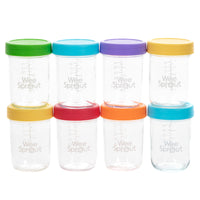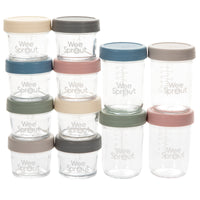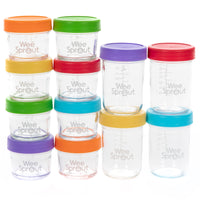 No need to break the bank or your back to feed your little healthy meals. Making homemade baby food can save you money and give you peace of mind when it comes to what goes into your child's food. But the hurdle of constant and consistent food prep can be overwhelming!
WeeSprout glass baby food jars! They're the perfect storage solution for batch-prepping homemade baby food — that means you can have convenience without compromising on what goes into your baby's meals! 

FREE standard shipping on all US orders over $50 — most orders are shipped within 24-48 hours and your product will arrive within 7-10 business days.
• Set of 12 Baby Food Jars — Glass jars with twist lids
• 4 oz Capacity — Perfect for first stage feeding (Change capacity for each set)
• Measurement Markings — Servings grow with your child
• Freezer Safe Glass Baby Food Storage — Save make-ahead meals for later
• Microwave Safe — Heat leftovers your baby doesn't finish, then transfer into dishware
• Dishwasher Safe — For quick & easy cleanup
• 100% Money Back Guarantee — try your glass baby food jars risk-free!
How much do the jars hold?
Our glass jars hold 4 oz when filled to the top, with 2 oz measurement markings. However, we recommend leaving a bit of space at the top if freezing as the contents will expand when frozen.

Can the glass jars be microwaved with the lids on?
We do not recommend microwaving your glass baby food jars with the lids on since they are plastic. The glass jars themselves are microwaveable, but we recommend using care when transitioning from cold to heat.

What is the diameter of the glass jars?
The diameter of our glass jars is 2.5".

Can I boil my glass jars to sterilize them?
The glass jars can be boiled, but we recommend using care when going from cold to heat. We recommend placing the jars in room temperature water before bringing it to a boil. Keep the water at a gentle boil to sterilize. The lids should not be boiled, as they are plastic.

Will the jars crack from heat or cold?
WeeSprout glass baby food storage jars are made of very thick glass. However, it's possible for all glass to break with extreme temperature changes. Because of this, we recommend using care when transitioning your jars between extreme temperatures.

Check out some tips below:
Let baby food cool before storing
Leave room for expansion when filling your jars
Avoid going immediately from the freezer to very hot water
Do not microwave cool jars except on a low setting

How do I warm the contents of my jars?
To reheat or warm the contents of your jars, place the jar in warm water or a bottle warmer ( be sure to crack the lid to avoid high pressure). The jars are microwavable, but we recommend not transitioning your jars immediately from the freezer to the microwave.

Are these jars leakproof?
The jars have a tight seal and are leak-resistant. However, they are not completely leakproof.

How long does baby food stay fresh?
In general, baby food containing poultry, fish, meat, or eggs should stay fresh in the refrigerator for 24 hours and frozen for 3 months. Baby food made with only fruits and vegetables should last 3 days in the refrigerator and 6 months in the freezer.
Dishwasher safe: We recommend removing any marker before placing in dishwasher — wipe with rubbing alcohol for tough stains!

Microwave safe (*remove lids): Place in warm water to thaw before placing in microwave. Avoid going straight from freezer to very hot water or microwave. We recommend microwaving jars on half-power setting. Transfer to dishware before serving.

Bottle Warmer Compatible: Place your jar in bottle warmer and crack lid to avoid high pressure.

Freezer Safe: leave room for expansion when filling jars & let food cool before placing in freezer.
Frequently Bought Together
Convenience Without The Compromise
WeeSprout food storage products are designed with cost, convenience, and conscience in mind. No parent should have to pay an arm and a leg to feed their baby healthy meals. And you should never have to choose between quality or convenience. And like so many of our products, our glass baby food storage options are an eco-conscious alternative to single-use containers!
Our Promise
Our eating, sleeping, and nursing products are:
Pure — We prioritize safety and purity with premium materials
Intentional — Made by parents for parents
Long-lasting — Quality construction means your products work hard while your little ones are little … and longer
The success of our business is built on our "above and beyond" customer service. Meaning, if something isn't just right with your order, we'll fix it — always.