Reusable Food Pouches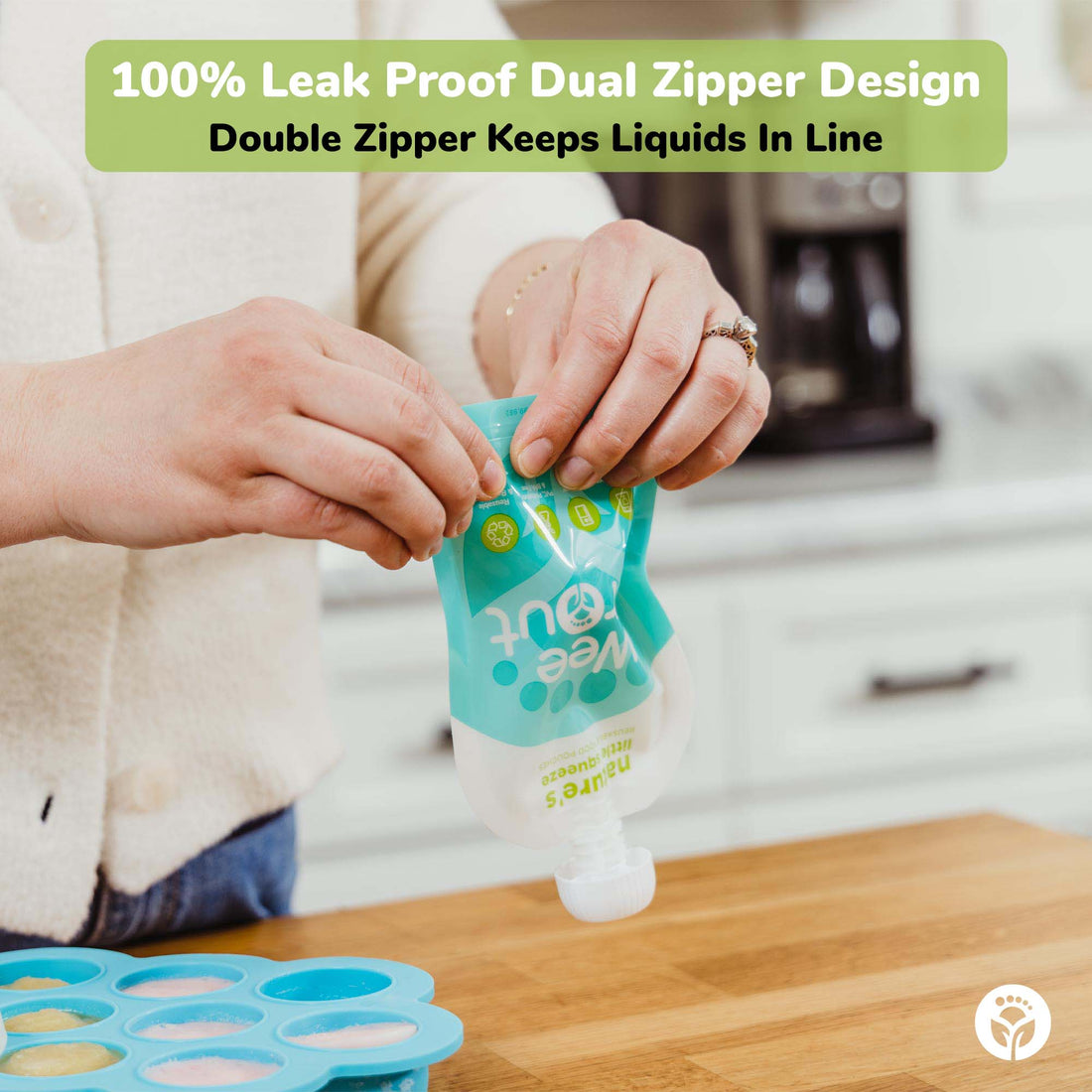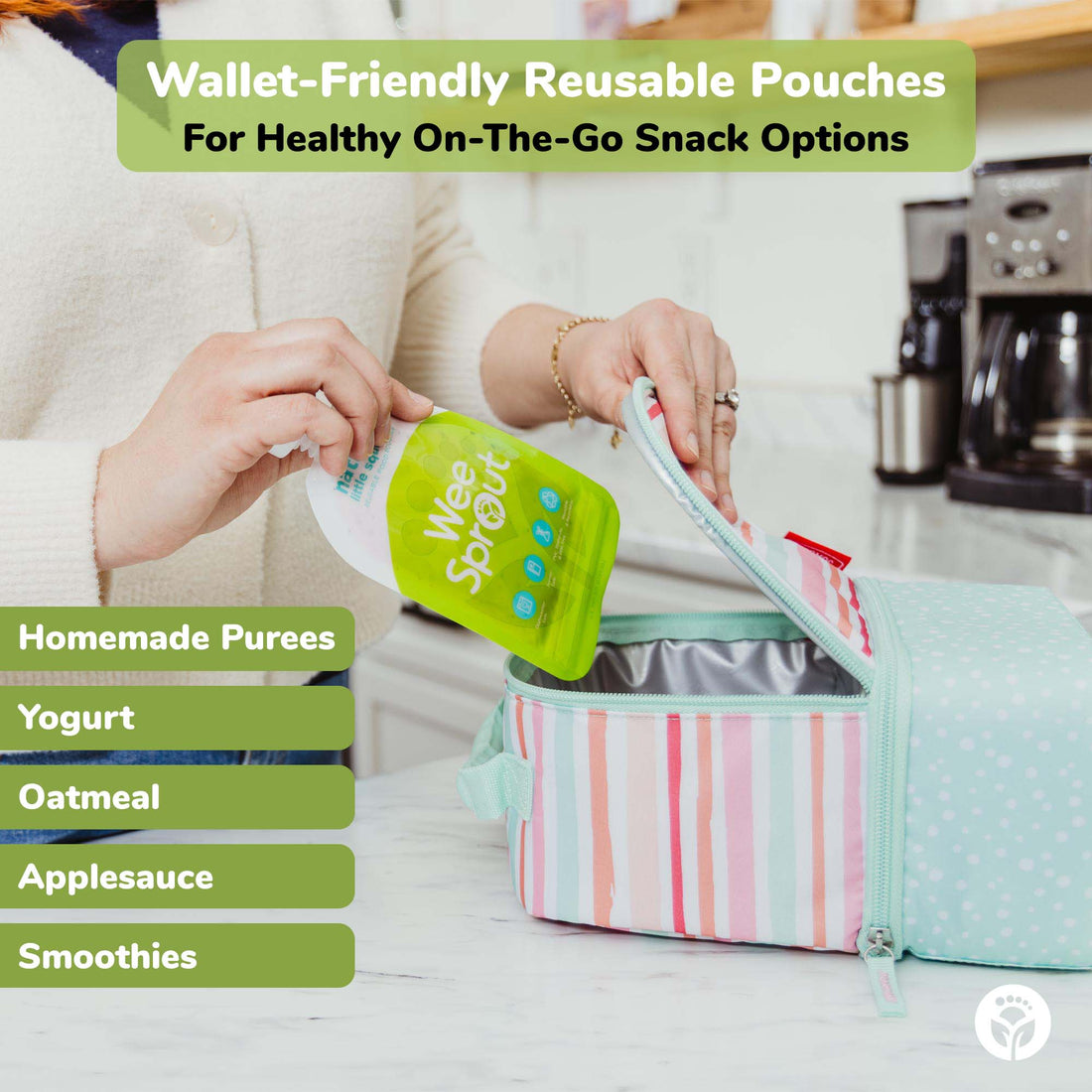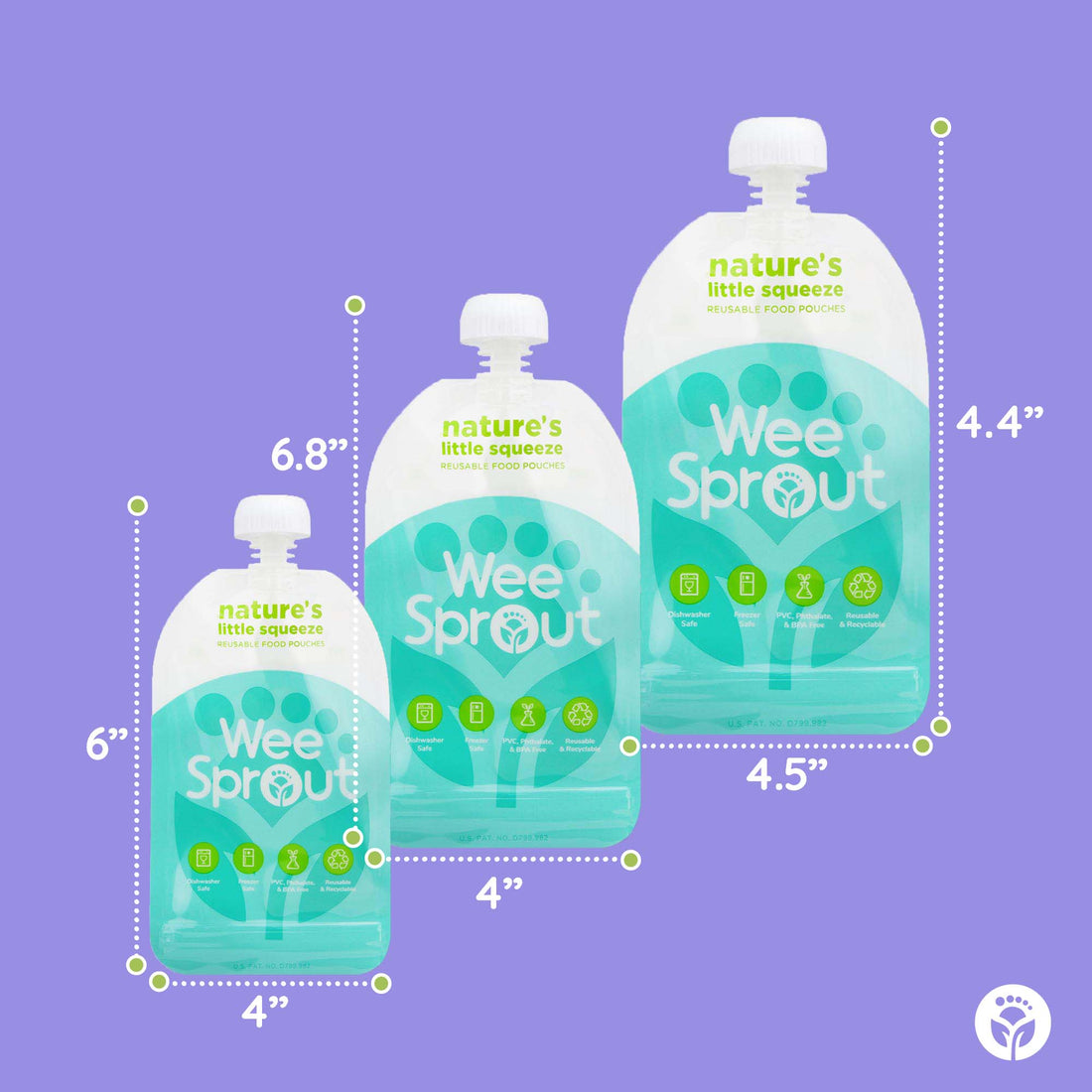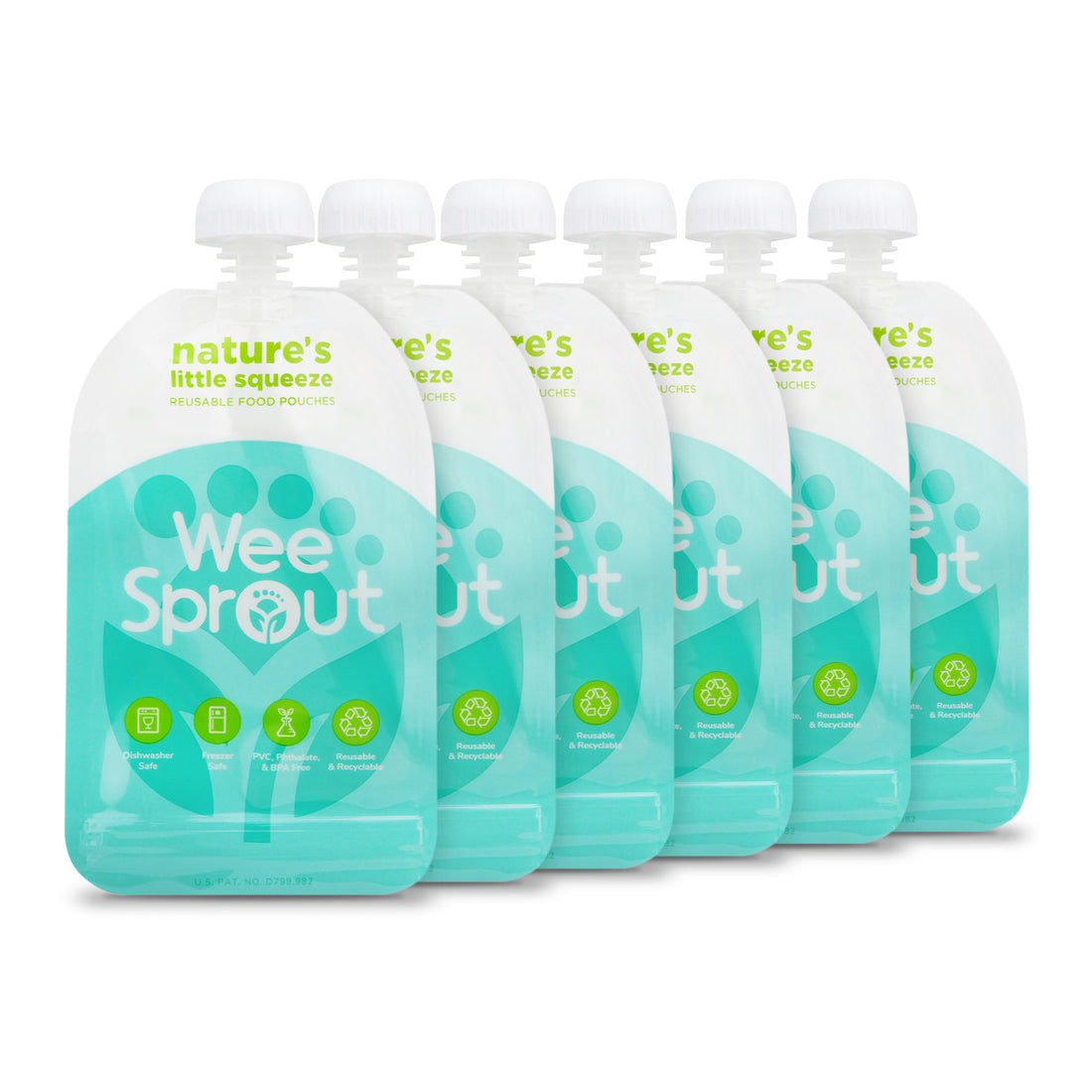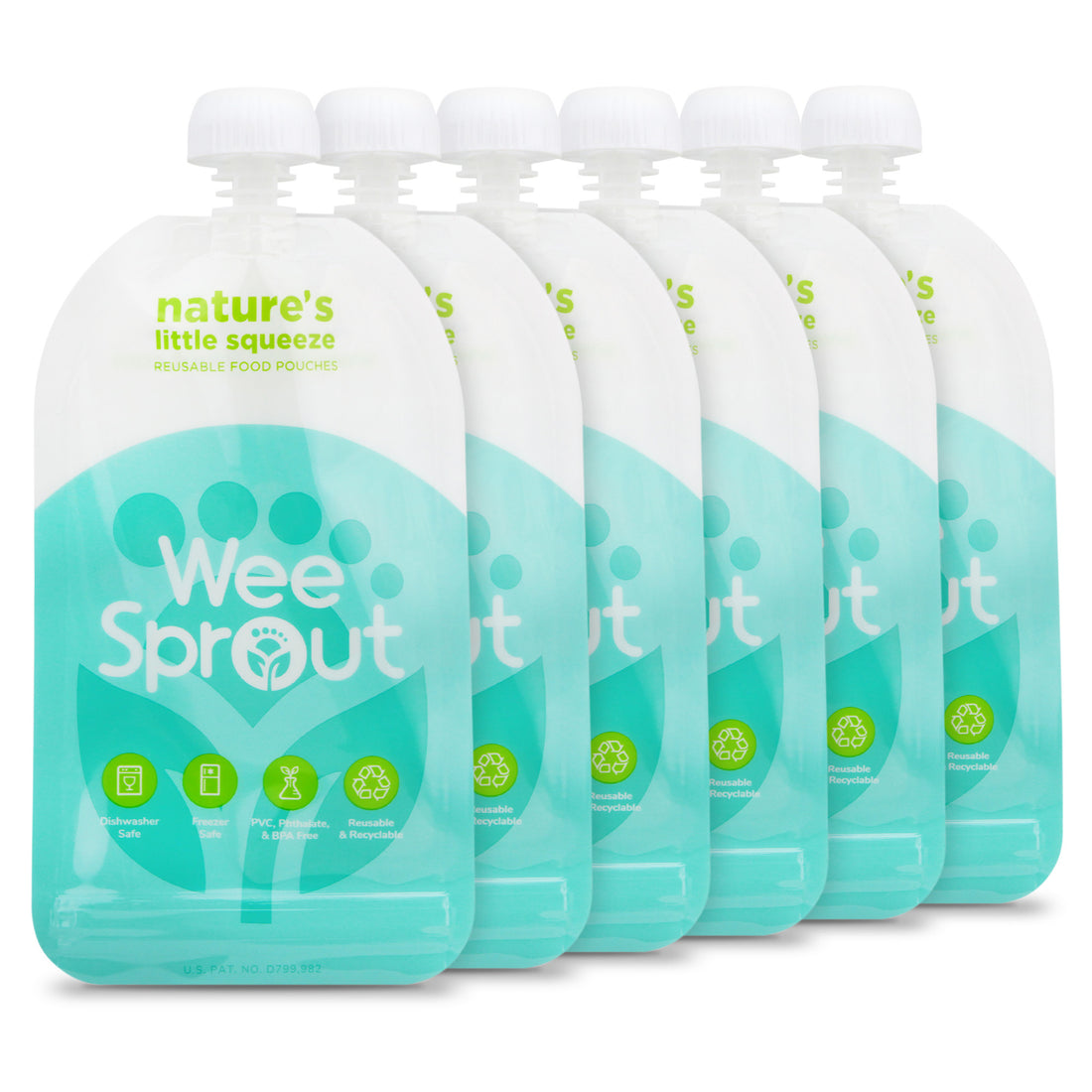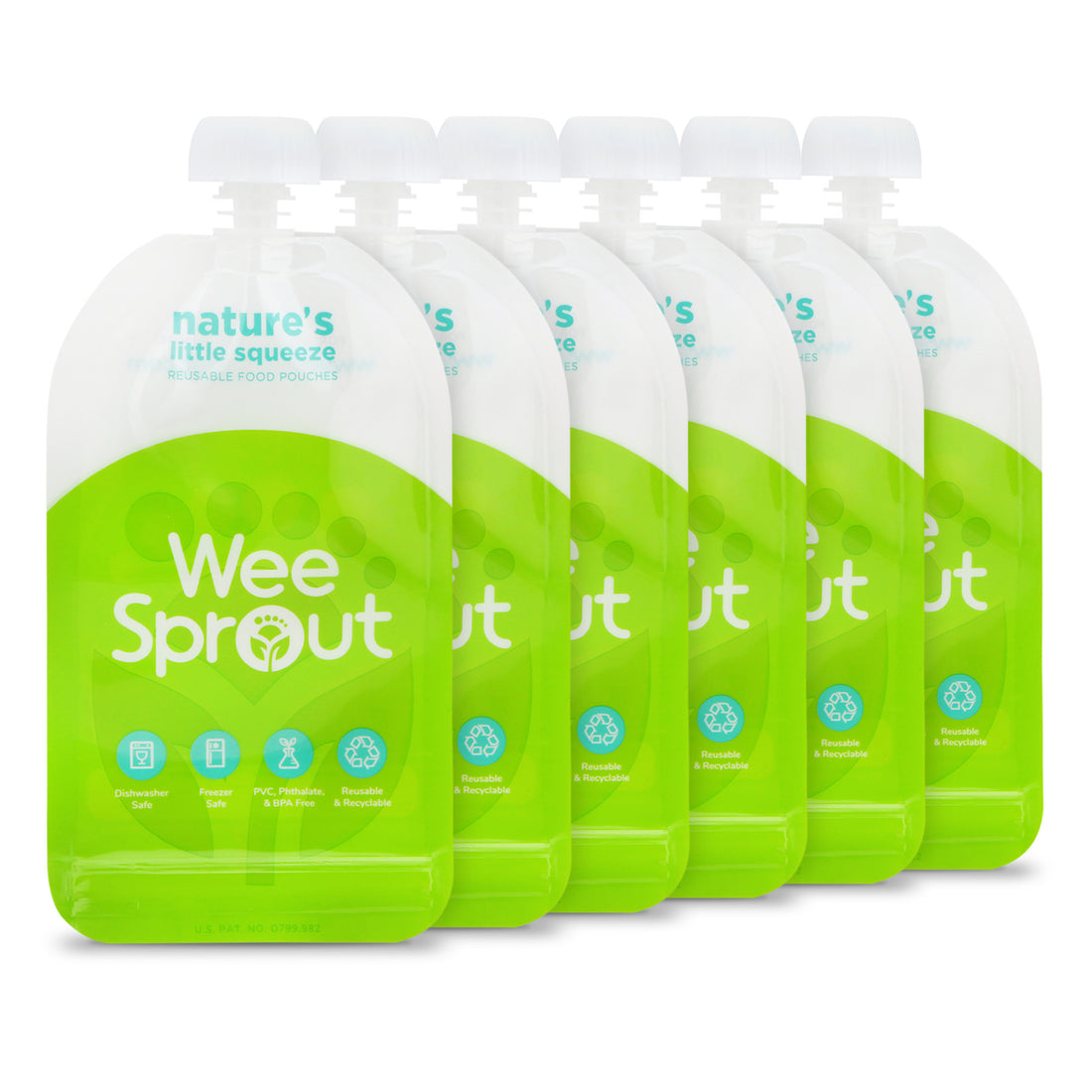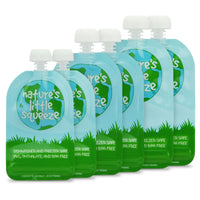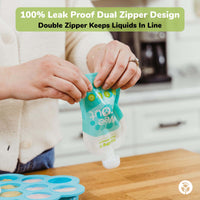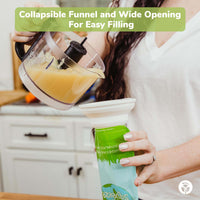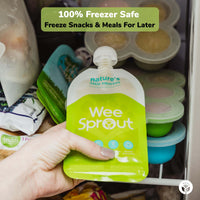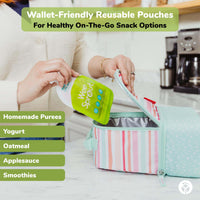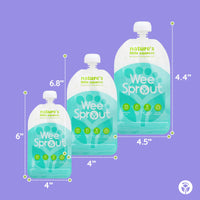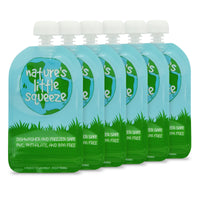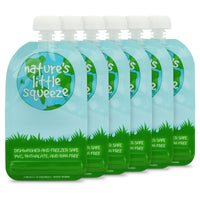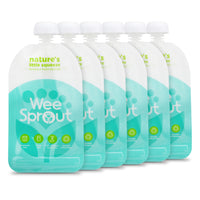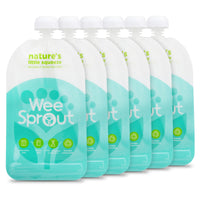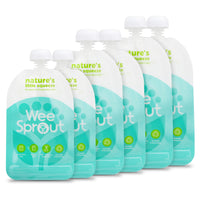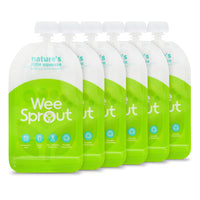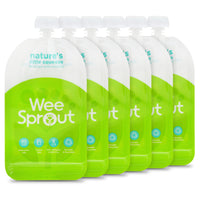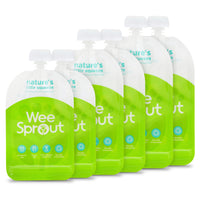 Break up the old rotation of Cheerios and Pirate booty with healthy on-the-go options like yogurt, applesauce, oatmeal, smoothies, purees and MORE! These freezer safe refillable pouches are perfect for batch prepping multiple snacks at one time that are ready to go when you are. 
Unlike store bought pouches, you know exactly what's in them – no more mystery concoctions or burning a hole through your pocket to serve up snacks that are quick, healthy, convenient – and tasty! Sneak fruit and veg into your picky eater's diet without paying a fortune for expensive store bought pouches. These parent and picky eater-approved reusable baby food pouches pay for themselves after a few uses.
And say goodbye to toddler tantrums on-the-go – the double zipper leakproof design eliminates surprise leaks in bags and messy spills in the freezer! And the baby-proof design lets your little feed themselves without the risk of little fingers opening their pouch mid-meal.
Reuse, refill and re-imagine snack time – then recycle!
Made with premium food grade plastic and chew-proof spouts, your pouches will last, use after use. But if you ever do need to let them go, they're 100% recyclable.
FREE standard shipping on all US orders over $50 — most orders are shipped within 24-48 hours and your product will arrive within 7-10 business days.
• Multi-Pack – Set of 6 reusable pouches for baby food
• Durable – Premium thick plastic lasts use after use
• Leakproof – Heavy Duty double zipper closure
• Easy to Fill and Clean – Wide opening for easy filling and cleaning
• Viewing Window – Contents viewable through pouch
• Convenient – Compatible with most popular filling stations & food pouch accessories
• Recyclable – Reuse and then recycle your pouches
• Dishwasher Safe – For quick & easy cleanup
• 100% Money Back Guarantee – try your reusable food pouches risk-free!
How many uses should I expect to get out of my reusable food pouches?
Your food pouches are made with high quality materials and are designed to last use after use with proper care. We're so confident our food pouches will stand the test of time that we have a one year money back guarantee.
What can I fill my pouch with?
Our pouches hold semi-solid foods like baby food, purees, yogurt, oatmeal, smoothies, and applesauce. Liquids won't leak from the bottom of the pouches, but the spouts are designed for semi-solids rather than liquids. Some solid foods will work if they are small enough, such as rice and quinoa.
What material are the reusable food pouches made of?
Our food pouches are made up of three layers of high quality FDA-approved plastic: PE, PET, and PA.
Does the zipper stay closed?
The wide mouth and dual-zipper design make our pouches easy to fill and 100% leakproof. The double zipper means little hands won't open the pouch mid-snack and the zipper will work like new, use after use!
Are they freezer safe?
Our reusable food pouches are freezer safe! They're ideal for storing baby food, purees, yogurt, and more in the freezer so you always have a snack ready to go when you're ready to go!
Can I use them with warm food?
Yes, they're perfect for warm foods like oatmeal, rice, quinoa, and more. We recommend heating the food prior to putting it into the pouch and only carrying lukewarm foods, as food can heat unevenly in the pouch and hot foods can pose a burning hazard for your child.
If my pouches get damaged, are they recyclable?
Yes! Our eco-friendly pouches can be reused over and over again. However, if they are damaged, the pouches and the packaging can be recycled.
Can I use a bottle warmer to warm my food pouches?
Yes, it's safe to warm your pouches in a bottle warmer. However, compatibility depends on the size of the pouch and the size of the bottle warmer.
How long will food stay fresh in my food pouches?
Baby food containing poultry, fish, meat, or eggs should stay fresh in the refrigerator for 24 hours. Baby food containing only fruits and vegetables should stay fresh in the refrigerator for 2 days. You can freeze all baby food for 1 to 2 months, and baby food with only fruits and vegetables for 6 months.
Are my food pouches microwave safe?
We do not recommend heating your food pouches in the microwave as the contents can heat unevenly, which can be dangerous for your child. Instead, we recommend thawing the contents in a bowl of hot water.
Will frozen cubes from the WeeSprout Freezer Tray fit in my food pouches?
Our small baby food freezer tray was designed so that the frozen cubes fit in WeeSprout Food Pouches. The 3.4 oz and 5 oz pouches hold two frozen cubes, and the 7oz pouches hold 3 frozen cubes.
Are my pouches dishwasher safe?
Yes, they are top rack dishwasher safe.
Are these pouches safe for my child?
Yes! Our pouches are BPA, PVC and phthalate-free!
Do the pouches work with the Infantino Squeeze Station?
Our pouches do work with the Infantino squeeze station. The spouts are a tiny bit longer than the Infantino spouts, which means you'll need to angle the spout a bit before you slide it onto the rail. Because our pouches are larger and longer, it's best to put them on the outside rails (rather than the middle rail). Slightly bend the pouch toward the middle so the pouches can slide on. Although they do work with the station, we find it's easier to fill our pouches with a funnel or a spoon.
Make sure the cap is secure then open the zipper at the bottom of the pouch. Pour or spoon your food into your pouch. Some customers prefer to use a funnel as a third option. Tapping the lid on the counter as you fill your pouch helps move the contents toward the cap. We recommend filling your pouch about 3/4 full to avoid an overflow when sealing the zipper.
Rinse your pouches and throw them in the dishwasher. Place each pouch over one or more prongs to keep it open during the wash cycle.
If you're in a hurry, you can clean your pouches with a bottle brush and warm soapy water and air dry on a rack or place the cap in the zipper opening to keep it open while it dries.
Air dry on a rack or place the cap in the zipper opening to keep it open while it dries.
How do I clean dried puree out of my pouches?
If puree dries out and gets stuck on your pouches, leave them to soak them in warm soapy water. Eventually the puree should rinse out easily.
Can I use the pouches for juice or liquid?
Our pouches are ideal for purees, baby food, applesauce, smoothies, oatmeal, nut butters, and similar foods with a semi-solid consistency. We do not recommend using your pouches for liquids, as they can leak from the pouch.
Can the pouches stand up on their own?
Our pouches are designed for ease of cleaning and filling, with the spout on one end and the opening on the other end. Because of this, they do not stand on their own.
Can I use a marker to label my pouches?
You can use a Vis-a-vis wet erase marker on the pouches if you would like to label the contents or a date. The marker washes off with water.
What type of plastic is used for the pouches?
Our pouches are made with three layers of plastic: PE, PET and PA. Each layer adds a specific function, but all three plastics are FDA-approved and safe for food.
Are the pouches leakproof?
Yes, they are 100% leakproof! We recommend using your pouches with semi-solids rather than liquids as liquids can flow out of the open spout when the pouch is picked up, but they are completely leakproof when fully closed.
Where are your pouches manufactured?
All of our products are designed in Memphis, TN. The pouches are manufactured in China. We have personally visited our manufacturing partners and we have third party inspections done before each shipment from China to verify the quality of the pouches.
Dishwasher safe: Open zipper and prop pouches open over dishwasher prongs to wash). Alternatively, you can hand wash your pouches with a bottle brush and warm soapy water. Prop pouches open on drying rack or across dishwasher prongs to fully dry. Soak in warm soapy water to remove stubborn dried puree!

Freezer safe

Recyclable: Your pouches are reusable, but if you ever need to recycle them you can place them in #2 if you are required to separate your plastics!
*We do not recommend microwaving your pouches. Instead, we recommend placing your pouches in warm water to thaw contents!
Frequently Bought Together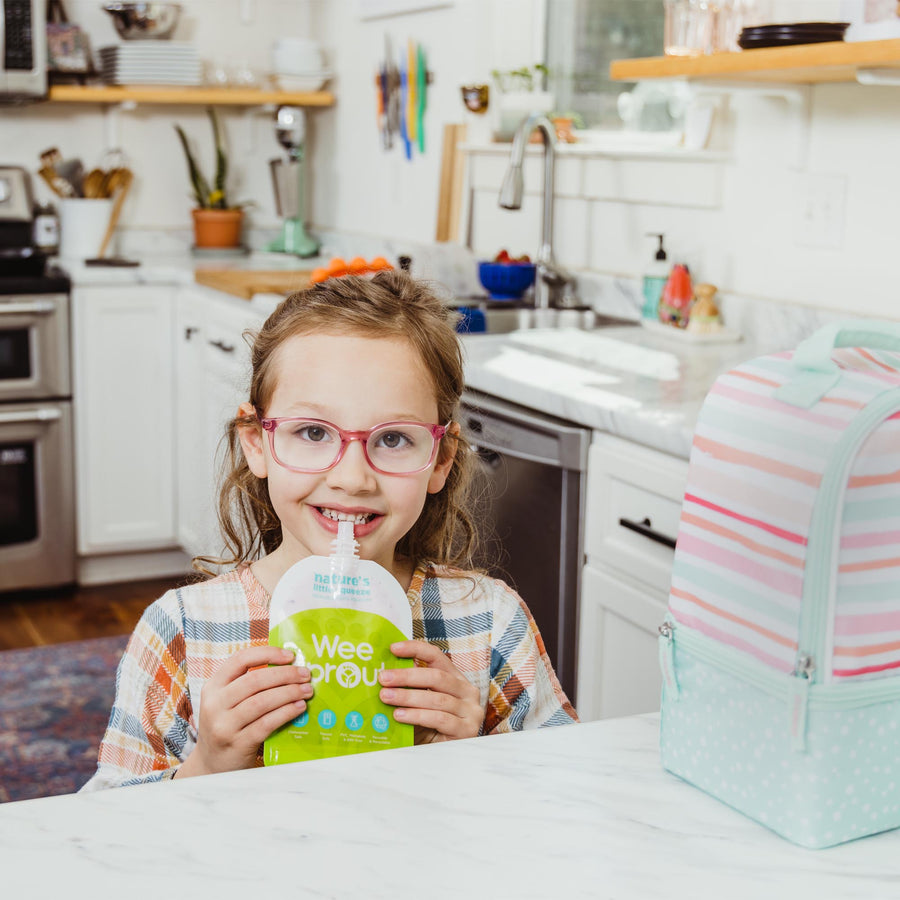 Making On-The-Go Effortless
Soccer practice, meetings, errands … you do it all! You need products that can keep up. Like our reusable food pouches, our on-the-go products are an easy way to make your day to day more doable!
Our Promise
Our eating, sleeping, and nursing products are:
Pure — We prioritize safety and purity with premium materials
Intentional — Made by parents for parents
Long-lasting — Quality construction means your products work hard while your little ones are little … and longer
The success of our business is built on our "above and beyond" customer service. Meaning, if something isn't just right with your order, we'll fix it — always.